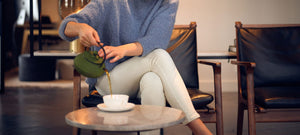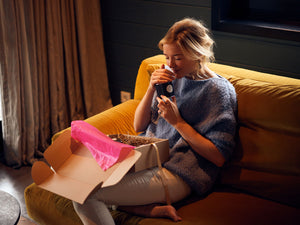 Maakt jouw herfst compleet
Kruidenthee in de herfst
De geur van herfst bestaat uit kaneel, peper, steranijs en knisperend brandhout. In het najaar stijgt de behoefte naar verwarmende en volle smaken. Het seizoen dat je uitnodigt om te genieten van verwarmende kruiden en waarin je wel wat ondersteuning van antioxidanten en gezonde ingrediënten kunt gebruiken. Dit seizoen kies je een gastronomische oolong, een kruidenthee barstensvol anti-oxidanten of een zwarte thee met geurende kruiden. Kruip met een deken op de bank en met jouw favoriete herfst thee.
Start je dag met herfst thee
's Ochtends donker en koud, wie heeft daar nu geen moeite mee? Start de herfstdag met een moment voor jezelf en prikkel je zintuigen met de heerlijke geuren van typische herfst thee. In de klassieke blends proef je vaak ingrediënten zoals anijs, gember, kaneel en gecombineerd met spannende smaken zoals sinaasappel en saffloerblad.
Uiteraard is de herfst thee ook heerlijk overdag. Thermosbeker mee en gegarandeerd een momentje genieten waar je ook maar bent.
Bekijk onze Herfst thee
CiTea laat jou genieten van onze speciale herfst thee collectie
Voor de herfst hebben we een speciale collectie samengesteld van drie verschillende blends:
Choc Chip Chai
Bad Weather Blend
Wild Rose
Deze prachtige theeën geven jou 150 theemomenten. Genoeg om de herfst mee door te komen toch? Deze box wordt met zorg verpakt en verstuurd. Leuk om weg te geven, of om lekker zelf van te genieten.
Herfstthee kopen
Welke theeeën zitten in de Herfst Collectie?
Choco Chip Chai​
Met trots presenteren we je onze nieuwste en nu al populairste thee.Gemaakt van pittige gember, zoete kaneel uit Vietnam, chia zaadjes, sinaasappelzest, saffloer en cacao boon; Choco Chip Chai!De perfecte thee voor koude, regenachtige dagen. De thee die je altijd al miste.

Bad Weather Blend
De beste manier om koude dagen met slecht weer door te komen?
Thuis op de bank met een kop verwarmende en genezende thee.
De zachte smaak gecombineerd met de zoetheid van honing geeft direct een warm gevoel van binnen.
Daarbij helpt de bacteriedodende anijs in deze thee bij de behandeling van verkoudheid en droge hoest.

Wild Rose​
CiTea's Wild Rose rozenbottel is van nature cafeïnevrij. Deze gedroogde bessenschillen hebben een opmerkelijk hoog vitamine C gehalte en leveren daarmee een belangrijke bijdrage aan je immuunsysteem.De bessen groeien gedurende de warme zomer, wanneer ze in de nazomer optimaal rijp zijn worden ze geplukt en gedroogd.
Bekijk onze Herfst Collectie