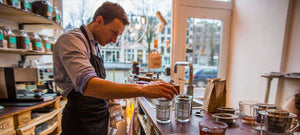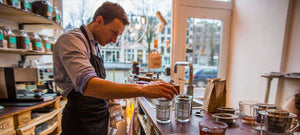 A true and special story of Dio
Where it started
As a Dutch Royal Marine, CiTea's founder Dio Buchner travelled all over the world, drinking tea from the most northern parts of Norway and Sweden across the Caribbean and central Africa to the Middle East. All these places have one thing in common; the tea tastes great, brings people together and even helped to survive in extreme weather conditions. Childhood friendship with Jelle De Boer grew up to become CiTea in 2013. This friendship turned out to be the perfect combination of trust, enthusiasm, experience and tea know-how.
Why tea?
To remind you why tea is the most popular prepared beverage in the world throughout the history. And to make this tradition even more popular, today. CiTea is on a constant search for new teas in order to provide you with the most exquisite and tasteful teas from around the globe. In our webshop, we offer a modern, clean Scandinavian-style interior with a broad selection of teas, tisanes and teaware. Most of all, we provide a high level of service; have we mentioned we love sharing advice on health benefits, food-pairing, gluten-free diets and different ways to make tea?
Quality
In order to ensure high quality and pesticide-free teas, CiTea only collaborates with international suppliers which abide by the European foodstuff regulations. All our teas are tested by a board of experienced blenders and tasters who work side by side with the company to create teas of exceptional quality. The Dutch were the pioneers of tea import into Europe. Being the modern-style tea shop, we pride ourselves in creating the finest teas for people who savour quality, exceptional taste and the beauty of tea.