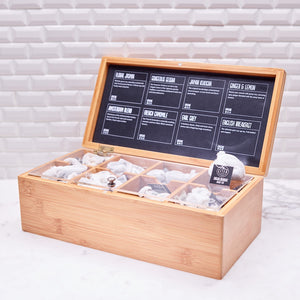 Onze full-service thee oplossingen
Presentatie
Losse thee op kantoor
Met een keuze uit 120 smaken vinden we perfecte selectie voor jouw collega's.
We helpen je graag om het ultieme assortiment samen te stellen.
Proefpakket aanvragen
Luxe zakjes
De kwaliteit van losse thee maar gepresenteerd in handige zakjes.
Mooi meegenomen is de duurzaamheid van de zakjes; volledig biologisch afbreekbaar.
Proefpakket aanvragen
Pantry of koffiebar
We helpen je graag om de ultieme presentatie te vinden.
Duurzame presentatiedisplays vul je eenvoudig bij met onze hersluitbare verpakkingen.
Proefpakket aanvragen
Duurzame keuze voor jouw organisatie
Willen jullie graag onnodig afval besparen? Wij ook! Met ons losse thee concept kan je door handige accessoires genieten van de lekkerste thee zonder onnodig afval. De theesoorten worden gepresenteerd in stijlvolle, herbruikbare presentatiedisplays. Je vult ze gemakkelijk bij met onze duurzame navulverpakkingen. Genieten van de lekkerste thee en afval besparen. Lekker bezig!
Contact
Genieten van heerlijke kop verse thee op kantoor
Je collega's of medewerkers verwennen met lekkere thee is leuker en makkelijker dan ooit.
Nog leuker, het is waarschijnlijk ook nog voordeliger.
Dagelijks verzenden we pakketjes wereldwijd.
Voor 15.00 besteld is dezelfde dag verstuurd. In de regel bezorgen we in Nederland en Duitsland de volgende dag.
Je vindt in onze selectie groene thee, zwarte thee, witte thee, oolong, rooibos en andere kruidenthee.
Waarschijnlijk zijn we het best bewaarde geheim op het gebied van thee en ben je ons als eens ergens tegengekomen. Je vindt ons naast kantoren in hotels, restaurants, catering, wellness, winkels en koffiebarren.